Home > Books
Author travels to meet key Tibetan Buddhist
Reviewer Geoffrey Goble, The Dallas Morning News, Feb 19, 2006
JOURNEY TO TIBET'S LOST LAMA. By Gaby Naher. Ulysses Press. 240 pages. $14.95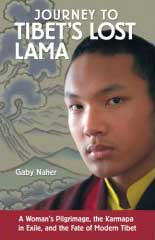 Dallas, Texas (USA) -- Gaby Naher's book weaves together the history of the Karmapas with the author's trip to India to meet the 17th Karmapa, who lives in exile there.
The Karmapas, from the Kagyu school of Tibetan Buddhism, are believed to be a line of reincarnated leaders.
After the Dalai Lama, the 17th Karmapa is arguably the most important figure in Tibetan Buddhism.
This book provides a historical overview of the lineage of Karmapas, along with Sino-Tibetan relations in the 20th and 21st centuries. Its narrative is propelled by Naher's reflections on her own life as an author and mother within the context of her journey to India.
"Journey" provides an excellent introduction to a fascinating religious tradition. Naher's own story is one to which many readers will relate.