Home Dharma Mix


Album with songs on Buddha
The Star, December 8, 2005
Petaling Jaya, Malaysia -- A GROUP of individuals who share the same interest and have common spiritual convictions have put their hearts and minds together to produce the first local album on Buddha.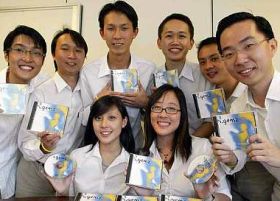 << The i-gemz group members with the newly launched compilation of songs on Buddha.
The album, titled "Cradled in Buddha's Arm,'' is produced by four individuals who met only in 2002. For three years these individuals, who call themselves i. gemz, worked tirelessly before finally cutting the album.
The album with contemporary Buddhist songs in English was produced by Geng Andersen and Khoo Nee Wen on Dec 3.
Khoo, who is the leader of the group, said it was a dream come true for the group which now has about 20 members.
He said he had always wanted to be a recording artiste as did his younger brother Nee Sem, Danieal Kwok and Anson Toh.
"So we came together and got ourselves involved in the production of the album.
"This is our way of pooling our musical talents for Buddha,'' he said.
Khoo, a member of the Buddhist Gem Fellowship, said the group had performed at several events, including the nationwide tsunami Charity Concert held this year.
"The album has11 songs written from inspiration derived from the life of Buddha and his message.
"Among the songs are 'Cradled in Buddha's Arm,' 'Bhrama of My Heart,' 'Ray of Dharma' and 'Let Peace Prevail on Earth','' he added.
For details, call Khoo at 012-391 8399 or Nee Sem at 016-201 1550.