Home Dharma Mix


Tibetan monk: Give peace a chant
By Melissa Mixon, USA TODAY, Feb 7, 2006
Los Angeles, USA -- As a Tibetan monk, Lama Tashi knows the Buddhist practice of non-attachment to worldly things.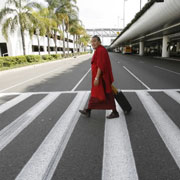 << Lama Tashi's Tibetan Master Chants has been nominated in the Best Traditional World Music Album category.
By Dan MacMedan, USA TODAY
But that's not to say he doesn't want to win a Grammy.
Tonight Tashi will join musicians such as Gwen Stefani and Mariah Carey in Los Angeles for the 48th Grammy Awards.
Tashi's album, Tibetan Master Chants, is nominated in the traditional-world-music category. The album's goal, he says, was to be musical and give a message to the Western world "of peace and love and non-violence."
Born Ngawang Tashi Bapu in northeast India, Tashi began studying Buddhism at 17 at Drepung Loseling Monastery in Tibet. There he was recognized for his multiphonic "deep voice" by a chanting club.
If he wins, Tashi says he will dedicate the award to the preservation of Tibetan culture, his masters, the Dalai Lama and the monastery.
Tashi was principal chant master at the monastery for five years and has performed internationally.
In 2004, Buddhist monks won a traditional world-music Grammy for their album Sacred Tibetan Chants.