Home Dharma Mix


South African wins Buddhist music awards
The Star, June 9, 2008
KUALA LUMPUR, Malaysia -- Marshall Harmse, a contestant from South Africa, bagged the Best Composition prize of the Master Hsing Yun Awards at the Sounds of the Human World International Musical Composition Quest 2008 here.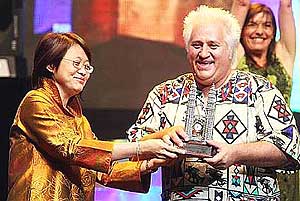 << Rhythm and soul: Chew presenting the Best Composition first prize of the Master Hsing Yun Award to Winner Harmse for his song "I Vow".
Wanita MCA deputy chief Datin Paduka Chew Mei Fun presented him the prize, which he won for his song "I Vow" at the event, organised by the Fo Guang Shan Religious Affairs Committee, Fo Guang Shan Foundation for Buddhist Culture and Education, Fo Guang Shan Malaysia and Fo Guang Shan Singapore here on Saturday.
Contestants from more than 18 countries, including Austria, Britain, Taiwan, South Korea, South Africa, Malaysia, Brazil and China took part in the competition.
Their compositions consisted of a range of musical styles such as soft rock, sentimental and new age to express the truth, beauty and benevolence of Buddhist teachings.
The Sounds of the Human World was first launched in 2003 to commemorate Master Hsing Yun's 50-year effort to develop Buddhist hymns.
It aims to present original songs and to popularise Buddhist hymns.