Home Dharma Mix


Fourth Inter-Dharma School Hymn Singing Competition
The Buddhist Channel, Aug 1, 2008
Serdang, Selangor (Malaysia) -- Buddhist Sunday Schools in Malaysia will soon be going into "hyper-mode" to search for their own singing sensations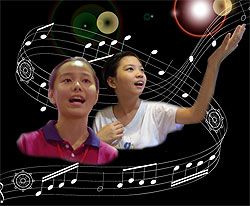 This year, the Inter-Dharma School Hymn Singing Competition, the fourth in the series, will be held at Shah Alam Buddhist Society (SABS).
Eleven Buddhist societies with their respective Dhamma schools will be participating in the competition
The annual competition aims to promote Buddhist hymns and compositions, nurture talents in singing among Dharma schoolchildren, as well as to foster closer relations among Dharma schools in the country.
The competition will see performances from two categories, comprising solo and choir presentation from both the primary and secondary school students.
A panel comprising of a veteran Buddhist hymn composer, musician and album producer will be judging the contestants.
This year's competition is jointly organised by SABS, Kajang Buddhist Centre (BMSM Kajang Branch) and Nalanda Vidyalaya.
Admission is free.
If you go:
Where: Shah Alam Buddhist Society (SABS), Lot 9, Jalan Sg. Congkak, Bukit Rimau 32/41, Seksyen 32, 40460 Shah Alam, Selangor DE.
When: August 23, 2008 Saturday, 7.30pm – 10.30pm
For further information, please contact:
Sis Ivy Liew (Shah Alam Buddhist Society) 016 2138022
Sis Visakha Goh (Nalanda Vidyalaya) 016 2380023
Bro Chook Ka Joo (Kajang Buddhist Centre) 012 6646898