Home Dharma Mix


Dharma Tunes's Concert
The Buddhist Channel, July 15, 2009
Petaling Jaya, Malaysia -- Dharma Tunes, sponsored by Maha Karuna Buddhist Society and Setenang Community will have a free public concert on 1 Aug 2009, at Hilltop Centre, Kuala Lumpur. Organized to promote modern Buddhist music, it will feature local Dharma inspired acts such as i.gemz and Messenger of Dharma (MOD).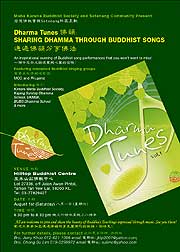 Dharma Tunes Vol. 1 is the first Malaysian Buddhist songbook complete with lyrics, guitar chords and full music notation. The song book aims to spread the Buddha's teachings through music. It is a community project initiated by Setenang.
Dharma Tunes Vol. 1 is especially suitable for Buddhist Sunday Dharma School teachers and students, Dharma Discussion groups and Buddhist music enthusiasts.
33 songs are showcased ranging from classic hits such as Bro. Tan Huat Chye's "Wheel of Life" to contemporary Buddhist hits such as Bro. Daniel Kwok's "The Dharma Shines in Me" to children's classics such as Bro. Daniel Yeo's "Ehipassiko".
Public support is much appreciated as funds from the sale to publish future editions of Dharma Tunes to spread the Dharma through music.
For further enquiries, contact:
* Bro. Jerry Khoo 012-621 1098 email: jktp2001@yahoo.com
* Bro. Chong Su Lim 019-329 9972 email: sulimc@yahoo.com
* Bro. Wong Tin Song email: wongtinsong@yahoo.com
* Website: http://sulimation.webs.com/dharmatunes.html
If you go:
Hill Top Centre
off Jalan Awan Pintal,Taman Tan Yew Lai
58200 Overseas Union Garden, Kuala Lumpur