Home Bodhi Wood


Film on Dalai Lama ready for US premiere
Chennai Online, May 8, 2005
Kolkata, India -- 'Impermanence', the documentary on the Dalai Lama by eminent filmmaker Gautam Ghose, is ready for its US premiere this month.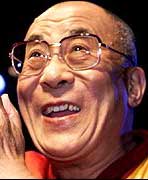 Still enamoured about his experience with the extraordinary man "because he is so different from most of us", Ghose recalled how the Dalai Lama always talked about his aversion to human follies like jealousy, greed and violence that can only lead to misery and advocated compassion for every fellow human being.
"As he wrapped a chadar each on me and the Italian producer of the film Sergio Scapagnini after the docu-feature's special screening in New Delhi, I felt enthralled by his touch, it was a magical feel," Ghose said.
The US premiere will be the third premiere of the film on the Buddhist spiritual head, after the international premiere held in Venice last September and the Indian premiere in New Delhi last month where a host of dignitaries including the Dalai Lama himself was present, Ghose said.
In the US, which comprises a major chunk of the international film market, the film would be first shown in North America and then screened on TV channels, Ghose, who had accompanied the Dalai Lama to several places during the making of the film from 1998 to 2004, said.