Home Bodhi Wood


Indian actress to go bald for monks' role
IndiaGlitz, July 1, 2008
Mumbai, India -- Actress Padmapriya is all set to work in a Malayalam movie titled 'Kuttyshranku' along with Mammootty.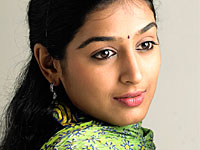 << Malayalee actress Padmapriya
The actress will be playing a Buddhist monk in the film and so, will be tonsuring her head for the role. In addition to this the actress is reportedly reading a lot of Buddhist books to get a firm hold of the character she is to play.
Industry sources say that numerous actresses were considered for the role but all of them had problems with the tonsuring part.
Padmapriya who had a bit of a slide in Tamil films seems to be concentrating in Malayalam films so that her career could launch itself again.
But whatever said and done, the actress's decision is bold and might prove to be a benediction in disguise.