Home Bodhi Wood


Bollywood producer apologises over Buddha gaffe
AFP, Feb 3, 2009
MUMBAI, India -- An Indian filmmaker has apologised for a scene in his latest film that suggested that the Buddha was born in India rather than Nepal.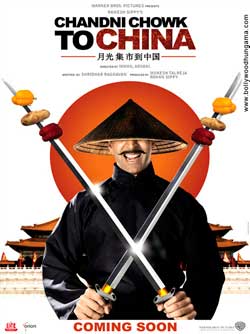 Producer Ramesh Sippy said the opening segment in the action-comedy "Chandni Chowk to China" was badly researched but he had not intended to hurt anyone's feelings.
"The controversial scene is just a voiceover and was not even required. It will be deleted," he was quoted as saying by the Press Trust of India news agency. Sippy apologised on behalf of the entire cast and crew, it added.
Nepal's home ministry last month banned the film after protests on the streets of the capital Kathmandu, despite the offending remarks having been cut by the country's censors.
"Chandni Chowk to China" -- a co-production with US studio Warner Brothers -- is Bollywood's first Hindi-language film to be shot on location in China. It was released on January 16 but was roundly panned by critics.
The opening scene narrates how the hero, Akshay Kumar, a lowly Indian chef mistaken for the reincarnation of a fabled Chinese warrior, was from the birthplace of the Lord Buddha.
But Siddhartha Gautama, who became the original Buddha around 2,500 years ago, was born in southwest Nepal.