Home Bodhi Wood


New documentary offers insight into Myanmar uprising
Euronews, July 17, 2009
London, UK -- "Burma VJ" is an up-close experience of the fight against Myanmar's military government. The story is told through the eyes of a 27-year-old video journalist or VJ – Joshua.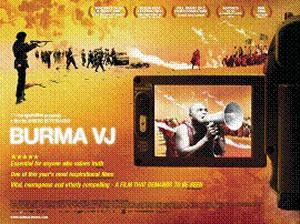 "The big breakthrough for me for making a film was realising there was this thing called the VJs, the secret reporters inside the country, who would give us images that we would never be able to obtain ourselves. But also, I felt their own story was quite symbolic for what Burma's about and for how important it is to conquer your fear every day in order to achieve any kind of change," said director Anders Ostergaard.
The film includes a full account of the dramatic days in September 2007 when Buddhist monks started marching in protest against the military regime.
In three days of mayhem, at least 31 people were killed, according to a U.N. Estimate.
"Burma VJ" has been shown at several international film festivals and has now been released at the cinema in the UK.