Home Bodhi Wood


Animated film on influential 8th-century Buddhist monk opens
By Chiang Chun-liang and Fanny Liu, CNA, May 7, 2010
Taipei, Taiwan -- The first animated film ever made for the big screen on one of the most influential figures in Chinese Buddhist history, Tang Dynasty monk Jian Zhen, opened in 23 theaters in Taiwan Friday.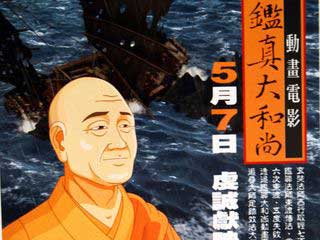 The 97-minute film, based on five years of research and featuring more than 130 characters, tells the story of the monk's effort to propagate Buddhism in Japan, said Da Ai Television, the Buddhist broadcaster affiliated with the Buddhist Compassion Relief Tzu Chi Foundation that produced the movie.
The animation has been meticulously done, the station said, with the team of animators needing about two weeks to produce a four-second shipwreck scene that happened more than 1,200 years ago.
The station said the story of Jian Zhen trying to disseminate Buddhist teachings in Japan is very touching.
He made six attempts over 11 years to get there before finally succeeding in 753 after losing his sight. He eventually settled in Nara, the capital of Japan in the eighth century, and lived there the rest of his life before passing away in 763.
Aside from spreading Buddhism, he is also credited with introducing Chinese medical skills, construction and arts to the Japanese.