Home Travel


Great Buddha at Todaiji temple
The Yomiuri Shimbun, Oct 12, 2006
Tokyo, Japan -- During the reign of Emperor Shomu, the country suffered epidemics and major conflicts. Hoping to relieve the anxiety of the people and bring peace, Emperor Shomu built the Great Buddha at Todaiji temple.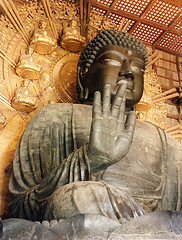 The image is about 15 meters tall, made of copper and plated with gold. It is believed to weigh about 380 tons. To make the original image, 500 tons of copper and 440 kilograms of gold were collected from across the country.
The construction of the image was a national project, involving 2.6 million people, although the country's population was only about 5 million at the time.
The image and the temple were damaged by repeated natural disasters and civil wars, but they were frequently repaired and rebuilt.
The face of the current Great Buddha was restored during the Edo period (1603-1868) and is not exactly the same as the original Buddha.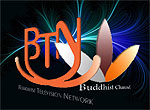 Get your Korean Buddhist News here, brought to you by BTN-Buddhist Channel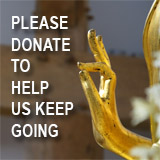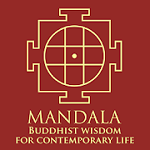 The Mandala app brings together Buddhist wisdom and meditation techniques with the latest insights of psychology and neuroscience to handle the challenges and complexities of modern life. The App offers a series of engaging talks and conversations with experts on a wide variety of topics, such as managing stress, dealing with adversity, developing greater resilience, cultivating empathy and compassion, creating healthy relationships, and many more. These topics are explored to help find greater peace, meaning and joy in our lives. Our panel of experts include Dr, Thupten Jinpa, Daniel Goleman, Kelly McGonigal and others.FREE DOWNLOAD here

Point your feed reader to this location


Submit an Article
Write to the Editor