Home Travel


Northern Buddhist Temple in Xining
China.org. Feb 1, 2011
Xining, China -- The Northern Buddhist Temple covers an area of 28,000 square meters (about 6.9 acres) and it leans against Northern Mountain (also called Tulou Mountain) in a northern suburb of Xining city, hence the name Northern Mountain Temple.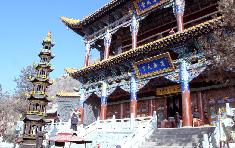 Featuring Buddhist architecture and Taoist architecture styles it is renowned by its name 'A Bright Pearl on the Southern Path of the Silk Road.
Northern Buddhist Temple was constructed in Northern Wei Dynasty (386-534) and it is the earliest example of religious architecture in Qinghai Province.
It was built based on a natural faultage on the mountainside according to Danxia landscape featuring stone alternating between softness and hardness.
Looking up you can see the crag and looking down you can see the cleft. Only the temple hangs in the middle, hence its other name Xuankong Temple (Hanging Temple). It is the second largest Xuankong Temple in China.