Home Europe


Buddhist monk holds art auction to buy Brighton Pier
BBC, 8 March 2012
Brighton, UK -- A nomadic Buddhist monk is hoping to raise funds to help buy Brighton Pier by holding an auction of artwork.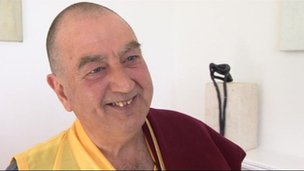 << In 2005 Kelsang Pawo began a world trek to help ease suffering of children through the Gesar Foundation
The pier, which has been up for sale for nine months, has an estimated value of at least £25m.
Kelsang Pawo wants to buy the structure and turn it into a symbol of worldwide hope and love.
He has launched The Gesar Foundation Palace Pier project which begins with the art auction, where he is hoping to raise £500,000.
He said that Brighton Pier could become the first landmark structure in the world to be run by a charity for the benefit of local history, culture, community and children.
English-born Kelsang Pawo is determined to succeed, and said: "I remember the saying of Gandhi - first people laugh, then they ridicule and then you win."
The auction, which includes a signed portrait by model Kate Moss and work by artists Gilbert and George, is to take place on Saturday at The Grand Hotel in Brighton.
The Gesar Foundation is currently applying for charitable status.
On the web: www.gesarfoundation.org