Home Europe


A chance to meditate Buddhist-style
The Shields Gazette, Oct 12, 2014
Hebburn, UK -- SOUTH Tynesiders have been invited to a Buddhist service at Hebburn riverside.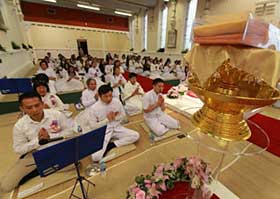 Members of the Buddhist meditation centre at the former St Andrew's Church, off Ellison Street, will stage a Kathina service on Sunday, October 26, starting at 10am.

Centre spokesman Edward Johnson said: "The main church will be open for the service, and all locals are welcome.

"The service covers the presentation of new robes to the monks, and 300 people are expected.

"There will be a parade around the grassed area at 1pm, followed by a buffet meal."

About 200 people attended last year's Kathina service, much of it held on a grassed area in front of the old St Andrew's Church.

The Kathina festival, dating back 2,500 years, is the largest alms-giving event of the Buddhist year.

It is held at the end of the monsoon period, in October or November, to mark the time when Buddhist monks move on from where they had been based for several months previously. The festival also celebrates offerings of cloth.

Part of the former St Andrew's Church opened as a Buddhist meditation centre last year after a portion of the building was bought by Thai cable TV company Dhamma Media Channel (DMC).

The centre also holds a meditation class every Wednesday between 7pm and 9pm. All are welcome.

The church was built in the Gothic style in 1872 by shipping magnate Andrew Leslie.