Home Europe


Buddhist leader first VIP visitor as school begins centenary celebrations
The Comet, 25 January 2015
Stevenage, UK -- A close adviser of the Dalai Lama, left, was the first of a number of VIP visitors scheduled to meet pupils at Letchworth's St Christopher School.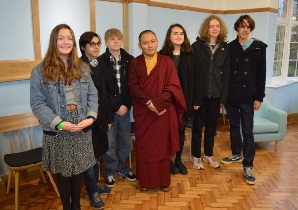 His Eminence Kyabje Thuksey Rinpoche took time out of his Europe-wide teaching tour to speak to staff and students at the Barrington Road school.
Students who visited the Druk White Lotus School in Ladakh as part of a Himalayan trek gave the Buddhist spiritual leader a guided tour of where they study.
Headteacher Richard Palmer said: "It was a great honour to welcome him and to hear his encouragement of our work.
"This week the school celebrates its centenary and His Eminence is the first of a number of distinguished visitors we are expecting this year."