Home Europe


His Holiness the Dalai Lama to visit North Italy
Media Release from Tibet Bureau, Geneva, 21 July 2005
Geneva, Switzerland -- His Holiness the Dalai Lama will be visiting northern Italy from July 29 to 1 August 2005 at the invitation of the Presidents of South Tyrol, Trento,
and the Mayor of Rimini.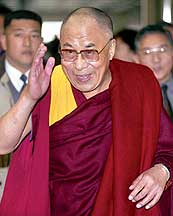 His four-day visit includes meetings with provincial & regional leaders, as well as with parliamentarians; Interfaith Prayer meetings; exhibitions on Tibetan culture; and a Conference on Ethics in Business.
This visit forms part of His Holiness the Dalai Lama's continued efforts to strengthen cultural ties between the Tibetan people and the communities in Italy.
His Holiness last visited the Autonomous Province of South Tyrol in 1997. Its President Luis Durnwalder visited Dharamsala, India in 2001, memories of which he cherishes to this day. His Holiness also participated in an interfaith conference in Trento in 2001.
In addition to their interest in the message of His Holiness for the promotion of human values and closer understanding among various faiths, the communities in these regions have been equally supportive in helping to protect the unique and ancient culture of Tibet.
On the morning of 2nd August, His Holiness will leave Italy in order to begin a twelve-day visit to Switzerland.
Media personnel
Please contact: Tenzin S. Kayta: Tel: +41 22 738 7940 (Tibet Bureau, Geneva)