Home Europe


His Holiness to receive Peace Prize in Germany
TibetNet, July 21, 2005
Dharamshala, India -- His Holiness the Dalai Lama is expected to visit Wiesbaden, Germany, from 26-28 July 2005 at the invitation of H.E. Roland Koch, Minister-President of the State of Hesse.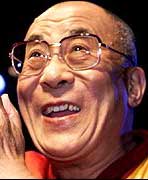 The scheduled programs include presentation of the Peace Prize by the Hessian Institute of Peace and Conflict Research, meetings with leaders including State Parliamentary Members, a luncheon reception by the American Chamber of Commerce in Germany and celebration of His Holiness' 70th birthday.
Fifteen members of the Tibetan Institute of Performing Arts (TIPA) in India have been invited to perform in the ceremony.
This celebration will be the first of its kind held outside India in the presence of His Holiness the Dalai Lama.
The birthday celebration and other activities in Wiesbaden are in recognition of His Holiness? unflinching leadership of the Tibetan people, his commitment towards finding a peaceful and mutually acceptable solution to the Tibet issue and promotion of human values and cooperation among various faiths.
On 28 July His Holiness will give a public talk in the Kurpark, Wiesbaden.
His Holiness will leave Germany for Italy on the morning of 29 July.