Home Europe


German crowd and state premier hail Dalai Lama
Expatica, July 29, 2005
WIESBADEN, Germany -- More than 20,000 admirers of the Dalai Lama crowded an ornate park in the German city of Wiesbaden Thursday to hear the Tibetan spiritual leader and see a German state premier hand him a book inscribed with thousands of birthday greetings.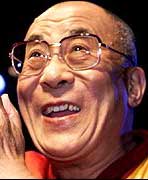 The Dalai Lama, who turned 70 on July 6 and is not allowed by Chinese authorities to set foot in Tibet or its capital Lhasa, said, "If I couldn't celebrate my 70th birthday in Lhasa, it will just have to be my 80th."
Roland Koch, premier of Hesse and one of Germany's leading centre- right politicians, handed over the book of greetings. The previous day, the Tibetan Buddhist leader had received the state's peace prize.
"We hope that the Tibetan people can have their language and their religion and sing their own songs," he said.
The Dalai Lama's government in exile contends that ethnic Tibetans have become a minority through Chinese immigration and demands that Tibetans be given cultural autonomy while remaining part of China.
The Dalai Lama appealed for peace and for patience, saying, "Patience is not the same thing as capitulation."
He spoke in the sanatorium park of Wiesbaden, a city where 19th century high society sought health care in exquisite surroundings and which is now the state capital of Hesse. Koch's offices are close by.