Home Europe


Kalmykia expecting Dalai Lama in December - Ilyumzhinov
Interfax, Oct 28, 2005
MOSCOW, Russia -- The Buddhist spiritual leader, the Dalai Lama, may visit Kalmykia in late December, the republic's President Kirsan Ilyumzhinov told a news conference at the Interfax main office in Moscow on Friday.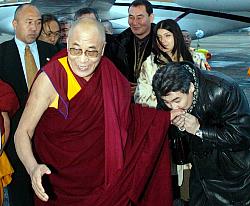 "We are going to open the largest Buddhist temple on December 27. We expect His Holiness to visit us if the Foreign Ministry grants him a visa," he said.
During his visit to Kalmykia last year, the Dalai Lama consecrated the temple's construction site, he said.
"Yesterday, I met with representatives of the Buddhist Union of the republic of Kalmykia and Buddhists of the Russian Federation. They have already handed over our invitation to His Holiness the Dalai Lama," Ilyumzhinov said.