Home Europe


Europe?s Highest Buddha Statue to Appear in Russia
MosNews, Nov 1, 2005
Elista, Kalmykia (Russia) -- Europe's highest monument to Buddha will be erected in Elista, the capital of Russia's southwestern republic of Kalmykia, where most of the indigenous population are practicing Buddhists, Nezavisimaya Gazeta daily reported.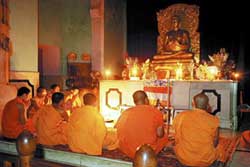 The 9-meter statue of Prince Siddhartha Gautama, designed by architect Vladimir Vaskin, will be mounted in the European Buddhism Center in Elista that is due to open on Dec. 26.
The new temple complex, painted by Nepalese artists, is to welcome the first faithful in spring 2006. Indian and Nepalese sculptors will make statues of 17 Buddhist saints.
The Dalai Lama himself consecrated the site of the future church complex during his visit to Kalmykia last year.
The local government invited him to participate in the opening ceremony of the European Buddhism Center, but the Buddhist leader is reportedly only going to attend when the temple is built.