Home Europe


Scotland's first ever Theravada Buddhist Temple launches new Website
by Allan Murray, Lanka Everything, March 13, 2006
Edinburgh, Scotland -- The first ever Theravada Buddhist Temple in Scotland was established in 2002 by Venerable Rewatha Thero, a Sri Lankan Buddhist monk. The Venerable has been a Buddhist monk for 25 years and has brought his skills to Scotland for the benefit of the people who live there.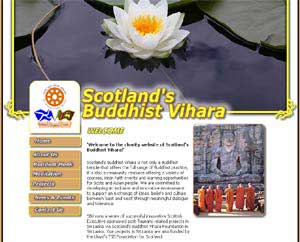 Scotland Buddhist Vihara is a registered charity in Scotland and it is deeply involved in Tsunami relief in Sri Lanka and is currently running projects to assist widowed women / men to get into self-employment.
It is also building an Orphanage for 20 boys who lost their parents in the Tsunami. SBV has started a clinic and a training centre (Metta Scotland) in Matara to help Tsunami victims.
It has published a website with details of these projects as well as timetable of cultural activities and free meditation classes. The web address is www.tsbv.org.uk.