Home Europe


Dalai Lama may visit Moscow this July
Interfax, April 24, 2006
Moscow, Russia -- The Dalai Lama may take part in the world religious summit in Moscow, Kalmykia President Kirsan Ilyumzhinov told a Monday press conference at Interfax's main office.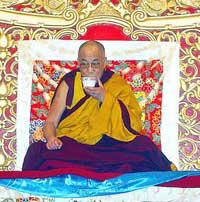 << The Dalai Lama last visited Russia in 2004
"Moscow will host a world summit of religious leaders on July 4. As far as I know, the organizers want to invite His Holiness the Dalai Lama," he said.
Asked whether China may object to the Moscow visit of Dalai Lama, Ilyumzhinov said, "This is not a question to ask me."
Kalmykia was expecting Dalai Lama to attend the opening of a Buddhist temple with an eleven-meter-tall statue of Buddha late last December, but the visit was canceled for a number of reasons.
The Dalai Lama last visited Russia on November 29-December 1, 2004. He visited Elista, the capital of Kalmykia, to bless the future temple's construction site. The Dalai Lama did not have any official meetings, and his visit was purely pastoral.
Prior to that, the Dalai Lama paid an unofficial visit to Russia in 1992. He visited Buryatia and led a service at the Ivolgina datsan.