Home Europe


Buddhist monks visit Newbury school
By Neil Welch, Newbury Today, May 5 2006
Dances and workshops give St Bartholomew's pupils a taste of Tibet
Newsbury, UK -- ST Bartholomew's School echoed to the sounds of Tibet on Thursday. Monks from the Tashi Lhunpo monastery performed masked dances to sacred music, giving pupils an insight into their religion and culture.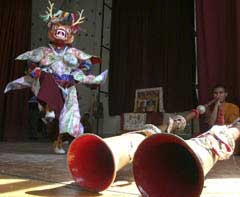 The dances involved ceremonial costumed rituals, recitation of mantras and the use of drums and cymbals.
The Buddhist monks also put on a series of workshops for the students.
St Bartholomew's head of religious education, Maria Pratico, said the event could teach the students a lot about different ways of life.
She said: "The world is made up of many diverse cultures, and the children today got to see one of them. "The performance made the point that religion links to culture – you can't separate them – it's a whole way of being.
"The children sometimes can't see that with Christianity."
Although the order originates from Tibet, the monks have lived in South India since 1972. The 250 residents of the monastery study philosophy and religious education. The course takes 16 years to complete.
St Bartholomew's was the last performance on the monks' visit to the UK, but they will be returning in the autumn.