Home Europe


Dalai Lama says he does not want separation from China
IRNA, May 31, 2006
Brussels, Belgium -- The Tibetan spiritual leader, Dalai Lama, said Wednesday that he was only seeking autonomy for Tibet and not separation from China.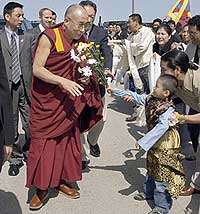 "We are not seeking separation," he told a press conference at the European Parliament in Brussels after meeting European
Parliamentarians.
But he demanded autonomy for Tibet to preserve an 'ancient culture and an anchoring of the Buddhist tradition'.
The Dalai Lama is currently on a week-long visit to Belgium to speak on Buddhist spiritual values.
He stressed on the importance of religious harmony for the well-being of a society but also lamented the violence caused in the name of religion.