Home Europe


Annie's sweet dreams of new temple
The Scotsman, July 4, 2006
Edinburgh, Scotland -- Scots singing star Annie Lennox has given her backing to plans to create a Buddhist temple and cultural centre in Edinburgh.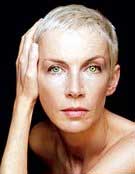 << Singer Annie Lennox
The singer wrote to a Buddhist friend to support the idea of a city temple. Ani Rinchen Khandro, has known the songwriter for 12 years. She said: "Annie's in town to receive a doctorate so it's good karma that I happen to be in [Edinburgh] at the same time. We're meeting to talk about the plans."
The idea first surfaced late last year when Tibetan monks set their sights on converting a derelict church in Edinburgh's Old Town into a Buddhist temple and cultural centre. Blackfriars Street United Presbyterian Church was put on the market after lying empty for more than a decade. Although an anonymous Scots philanthropist submitted an offer for the building on behalf of the group earlier this year, the sale has been delayed.
In her letter, the 51-year-old pop star wrote: "A facility such as this - a veritable peace centre - in the capital city of Scotland would be so appropriate, bearing in mind that culturally Edinburgh is regarded as a groundbreaking, finger-on-the-pulse, kind of place.
"It would be a valuable asset to the local community, giving people the opportunity to join together in a positive and helpful way."