Home Europe


Dalai Lama leaves for India after consecrating a Buddhist temple
UNI, Dec 1, 2004
Moscow, Russia -- Tibetan spiritual leader, the Dalai Lama today left Elista, capital of Kalmyk after consecrating a Buddhist temple and performing his pastoral function.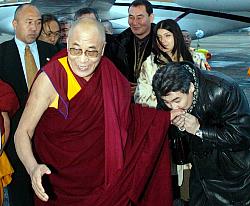 During his two-day stay in the southern Buddhist-dominated Kalmykia region, the Dalai Lama, besides consecrating the Khurul temple and leading the prayers, gave audience to a large number of Russian Buddhists. He also met with the Archbishop of Elista and Kalmykia, Zosima.
The Dalai Lam arrived in Elista last Monday on his first visit to Russia in ten years. Kalmykia, Buryatia and Tyva, the predominantly Buddhist regions of Russia, had been asking for his visit for a long time, but the Russian government repeatedly refused to give visa fearing the visit would spoil the growing relations with China.
Russian news agencies said that the Dalai Lama was not allowed to meet with any Russian officials. Only leaders of Kalmykia's one-million-strong Buddhist community met him at the irport.
Moscow also made it clear that his visit did not imply any recognition of the Dalai Lama's desire for Tibetan autonomy.