Home Europe


Dalai Lama meets The Pope
AKI, Oct 12, 2006
Vatican City -- Pope Benedict XVI will receive the exiled spiritual leader of Tibet, the Dalai Lama, during an audience at the Vatican on Friday. The Dalai Lama will also be meeting with Cardinal Paul Poupard, who heads the Pontifical Council for Culture.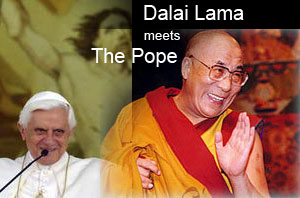 The 71-year-old Buddhist monk last met a pontiff on 27 November 2003 when his brief encounter with the late Pope John Paul II was given a low profile.
The Vatican's reluctance to publicise that meeting was seen as an attempt not to offend with China, which objects to governments talking to the Dalai Lama.
The Vatican has been working to improve conditions facing Chinese Catholics who are not allowed to recognise the pope's authority and must join a state-backed 'patriotic church'.
The spiritual leader of Tibet's Buddhists, and symbol of that country's national aspirations, has lived in exile since 1950. He was awarded the Nobel Peace Prize in 1989.
The Dalai Lama has lauded Vatican efforts to promote religious freedom, especially in China and occupied Tibet.