Home Europe


Buddhist master makes special pilgrimage to visit Harewood House shrine
By Howard Williamson and Suzanne McTaggart, Leeds Today, October 16, 2006
Leeds, UK -- A BUDDHIST master who is close to the Dalai Lama made a special pilgrimage to Harewood House at the weekend.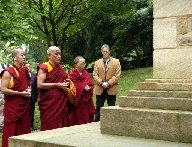 << UNIQUE SYMBOL: Viscount David Lascelles with Khensur Lobsang Tenzin Rinpoche, second left, at the stupa at Harewood
Khensur Rinpoche, who travelled from India to teach members of the Jamyang Buddhist Centre in Leeds, was invited by Lord Harewood to visit the stupa, a Buddhist shrine, in the Himalayan garden at the House. The 30ft high stupa was built by Yorkshire craftsmen using local stone and was consecrated 18 months ago in the presence of the Prince of Wales.
Delighted
Viscount Lascelles, son of the Earl and Countess of Harewood, funded the stupa, which symbolises enlightenment and is the only one of its kind in Europe.
Khensur Rinpoche told the YEP that he was delighted to visit the stupa, regarded by Buddhists as a highly powerful, energising force.
He said: "It's excellent to see something like a stupa in Leeds, which is a great place to live, and it's beneficial because it's available to the public to come and see. We believe seeing a stupa like this and being able to touch and circle it has a calming, pleasing effect."
During his four-day visit, Buddhists at the Jamyang Centre on Whingate Business Park, Armley, transferred their teach-ins to the Armley Mills industrial museum. Today he will bless the Jamyang Centre in a simple ceremony before returning to London and giving teachings in Barcelona and Paris.