Home Europe


Reason on why dead Lama's body well preserved
Interfax, July 4, 2007
Russian Buddhist leader claims to have cleared up the mystery of Lama Itigelov's incorruptible body
Moscow, Russia -- Damba Ayusheyev, leader of the Buddhist Traditional Sangha in Russia, has offered his version of the reason why famous Buddhist Lama Dashi-Dorjo Itigelov's body, which rests in the Ivolginsky monastery, remains incorruptible.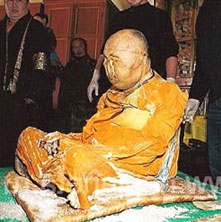 Speaking at an international conference in Buryatia on the Phenomenon of Pandido Khambo-Lama Itigelov, he said that in the 1920s the lama conducted the ritual of nesting five sacred vessels for the spirits of the earth, who are believed to be masters of that land.

In so doing, he never touched the earth. That is why this great element keeps his body, the Argumenty i Fakty website quotes Ayusheyev as saying.

'The Khambo-Lama, who was carried by his disciples, asked the faithful to keep him above the ground during the ritual. This is one of the reasons why his body has not changed', the leader of Russian Buddhists said.

On September 10, 2002, Lama Itigelov's body was raised from the ground. It was discovered that he literarily continued to live after death: his hands were warm; he sweated and even slightly opened his eyes. Five years ago this phenomenon shocked the whole world. No serious public event has been held since to mark it, the website remarks.

Last week, on July 2, a version explaining this miracle was offered to the conference in Buryatia. It was attended by religious researchers and journalists from Norway, India, Uzbekistan, Mongolia and several Russian cities.