Home Europe


First Ever religious sermon in Lisbon By Dalai Lama
Phayul, September 14, 2007
Lisbon, Portugal -- His Holiness the Dalai Lama today started his first ever religious teaching in Lisbon, Portugal.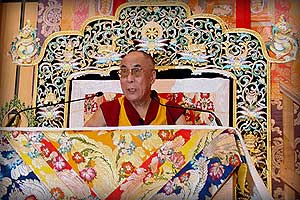 Soldout crowd of a few thousand people listened to the Tibetan Buddhist leader at the Auditório da Faculdade de Medicina Dentária(Auditorium of Dental Faculty) to listen to his teaching on Santideva's Guide to the Bodhisattva's Way of Life.
The teaching is organised by Kangyur Rinpoché foundation, Songsten Casa da Cultura do Tibet and the Portuguese Buddhist Union and is scheduled for three days.
Before speaking on the actual topic he first talked about the importance of all major religions in the world. He said all the major religions carry same message of strengthening of human values.
He also spoke about the importance of one's own religion and traditions. "It will be safer to keep one's own religion as changing faith might create confusion in personal life. If necessary one should change only after serious and fuller knowledge. It is unhealthy and you should not loose respect for your previous faith although it might not be relevant to you but you must understand that it is helping millions of others."
Later in the evening His Holiness met with Jaime Gama, President of parliament.