Home Europe


Ceremony ends Buddhist fast
by Yakub Qureshi, Manchester Evening News, Nov 13, 2007
Manchester, UK -- BUDDHIST monks marked a special day in their religious calendar with a colourful ceremony.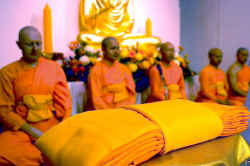 << Buddhist Monks end a period of fasting with the Kathina Robe Offering ceremony
The event, known as the Kathina Robe Offering, celebrated the end of a three-month fast for monks at the Salford temple. They have been avoiding travel and other activities to focus on meditation.
About 300 people attended the event at the Wat Charoenbhavana temple on Cheltenham Street, which saw new robes presented to those monks who took part in the fasting.
The period of fasting coincides with the rainy season in many Asian countries and the festival is celebrated by Buddhists around the world.
The monks' temple in Salford is housed in a former curtain rail factory.
They are currently raising funds for a new site.