Home Europe


Sri Lankan prelate visits Berlin temple
by Janaka Perera, The Buddhist Channel, Jan 26, 2008
Berlin, Germany -- Sri Lankan Buddhst Prelate Ven. Dr. Wijayarajapura Seelawansa Thera, Chief Sanghanyake of Europe (Ramanna Sect) and Chief Monk of the Nyanaponika Centre, Vienna, Austria visited the Berlin temple (Das Buddistische Haus) on January 20-21.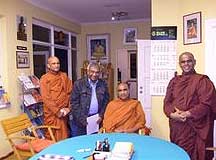 << Ven. Seelawansa (seated) together with two Sri Lankan monks, Ven. Dikwelle Seelasumana and Ven. Wilachchiye Dhammavijaya, both of whom are resident monks of the Berlin Vihara
Ven. Seelawansa, a representive of the Theravada School of Buddhism in Europe, delivered a sermon at the Temple during the visit. He is the spiritual adviser to the temple on Buddhist programs.

He was appointed Chief Sanghanayake of Europe by the Ramanna Sect last year in recognition of his 25 years of dedicated service in propagating the Buddha Dhamma in the West. He is also the Chief Patron of the Austria Buddhist Society and Lecturer, University of Vienna.

The Berlin temple (or Berlin Vihara as the Sri Lankans call it) in Frohnau is now the most striking symbol of interaction between German and Sri Lankan culture. It is the key centre in the dissemination, learning and the practise of Theravada Buddhism in Germany and other continental European countries. It also provides a venue in the heart of Europe for meetings of Buddhst groups drawn from both within and outside Germany.