Home Europe


Theravada Buddhist Programme organized at Kursk
by Srimal Silva, Sinhalaya News Agency, February 28, 2008
Kursk, Russia -- The students of Kursk State Medical University (KSMU), in Russia organized a Theravada Buddhist religious programme on the 10th of February within the university premises.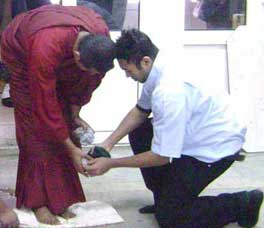 << Ven. Sevanagala Jinarasa thero performing a rite before the event
This was a first for any Russian city other than Moscow, and the event occurred in Kursk, the city with the largest Sri Lankan student population in Russia, which currently numbers 240.
Those who attended the programme were Ven. Sevanagala Jinarasa thero, currently a student at Peoples Friendship University, Moscow along with Mr. Rupasiri Thalpawila, also from Moscow. In addition, a group of students from Smolensk Medical University also participated.
Ven. Sevanagala Jinarasa thero conducted the sermon starting at 2 pm. This was followed by a 'Pahan pujawa' coordinated by Gayan Jayawardene from Smolensk Medical University. The programme ended with a series of meditations conducted by Mr. Rupasiri.
The event ended successfully and left the students with a deep sense of piousness, and nostalgia of home.
Credit goes to the president of the Sri Lankan Students Union of KSMU, Jagath Prasanna Gunawardana for the successful organization of such an event. In addition, he was ably assisted by Indika Prasad and Lahiru Rambukwella.