Home Europe


Buryatia - First Buddhist University in Russia
UNPO, Jan 21, 2005
Buryatia, Russia -- Buddhism is gaining popularity in Russia say experts who studied the possibilities of Russians receiving the diploma of a clergyman, the site, "All Russia", reported. eginning in 2005, everybody in Russia will have a chance to be educated in the first Buddhist University, which was named in honor of the first khambo-lama in Russia, Damba-Dorzho Zayayev.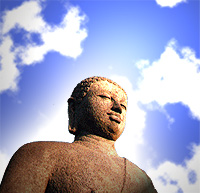 On the eve of the New Year the Buddhist Institute Dashi Choinkhorlin in the Ivolgin monastery in Buryatia received the license for the university. However, only young men, having a secondary education, will be able to attend this university.
This combination of a secular European and religious Buddhist education is a distinguishing feature of the Russian Buddhists. In foreign Buddhist monasteries, the teachers are usually pleasantly surprised on learning that the Russians are well educated in mathematics, astronomy, physics and chemistry.
Under the regulations for the higher educational establishments, a higher Buddhist education will also conform to the three-stage system of the Russian standard: bachelor's and master's degrees and doctorates.
One can receive a professional Orthodox education in Russia in 5 academies, 26 seminaries, 31 secondary schools and 4 schools which have the status to conduct professional courses. Muslims can get a secondary professional education at the madrasahs in Tatarstan and Bashkiria. Diplomas of imam-khatyb (a person leading a prayer) are given by a higher madrasah, or the Islamic University, which is considered to be the best in Russia.