Home Europe


Monks put on a Tibetan power play
By Dan Goater, Daily Echo, July 30, 2008
Dorset, UK -- EXOTIC rhythms and flamboyant colours wowed the audience at a song and dance show put on by Tibetan Buddhists.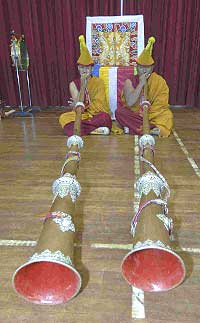 << HORN SECTION: Two of the Tibetan monks perform their Power of Compassion show at All Saints School in Weymouth Picture: BRIAN JUNG/BJ5795
The monks from the Tashi Lhunpo monastery in southern India performed The Power of Compassion' at All Saints School in Sunnyside Road, Weymouth.
They have also put on a performance in the community hall in Easton, Portland and another for inmates at The Verne prison on the island. The Verne's chaplain, The Rev Bill Cave, who helped organise some of the shows and visits, said the monks put on a wonderful show.' The Tashi Lhunpo monastery was established in Karnataka in India in 1972 after China began its occupation of Tibet.
The monastery has a modern school but also aims to teach people about Tibetan Buddhism and the history of the country.