Home Europe


Dalai Lama leads Buddhist prayers on French visit
Zee News, Aug 12, 2008
Veneux Les Sablons, France -- The Dalai Lama on Tuesday led a private prayer ceremony with 700 Buddhist faithful near Paris, as he officially launched his 12-day visit to France.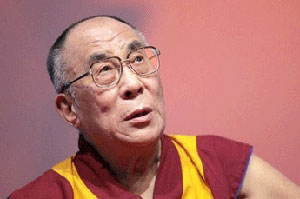 << The Dalai Lama

Beamed onto a giant outdoor screen, the Tibetan spiritual leader could be seen joking and laughing with the invited audience at the Yiga Tcheudzine temple in Veneux-les-Sablons, south of the capital.

Steering clear of any reference to the situation in Tibet, he issued a call for peace, dialogue between the different faiths and "human compassion" in an address to Buddhist followers, but also local officials and religious leaders.

Travelling under close police escort, the Dalai Lama was to head later to the nearby town of Evry for the blessing of a Vietnamese Buddhist temple, home to Europe's largest pagoda, in the presence of 1,500 followers.

The 73-year-old Dalai Lama, who flew into Paris Monday as the Beijing Olympics got into full swing, has shelved plans to meet President Nicolas Sarkozy while in France for fear of angering China.

Tomorrow the Nobel peace laureate will hold closed-door talks with a group of 30 to 40 lawmakers at the French Senate, but no government-level meetings are planned.

Instead, first lady Carla Bruni-Sarkozy will attend the inauguration of a temple in Lodeve in southern France Friday next week.

The rest of his visit, which runs to August 23, will be devoted to religious visits.