Home Europe


Buddha relic tour graces Scotland
BBC, Sept 18, 2008
The relics have come to Scotland from all over the world
Edinburgh, Scotland -- A collection of relics of the Buddha and other Buddhist masters is in Scotland for the first time as part of a world tour.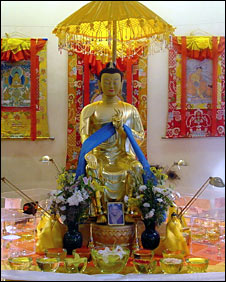 << Relic tour [Picture courtesy of Maitreya Project]
The Maitreya Project Relic Tour is at Findhorn Bay's Shambala Retreat Centre in Moray from Friday until Sunday.
The purpose of the tour is "to spread loving-kindness and the conditions for world peace", and features relics from Tibet, Burma, Indonesia and Thailand.
There is no entrance charge, but visitors can make donations.
The relics are eventually expected to be enshrined in a 500ft bronze statue being built in India.
Thomas Warrior, centre director of Shambala, said: "We are very excited to host the world-famous tour at Shambala, for the first time in Scotland.
"The tour has not just attracted Buddhists but people from all walks of life and from all religions and faiths, which makes it a very unique event in this day and age, when so many wars in this world are fought in the name of religion.
"The relics seem to touch the hearts of many people who experience them as a blessing. We warmly welcome everyone to Shambala to experience this blessing for themselves."