Home Europe


Europe's only Buddhist land needs to step on the gas
Russia Today, October 31, 2008
Kalmykia, Russia -- The republic of Kalmykia in Russia's south is an island of Asia on the outskirts of Europe. Descendants of Genghis Khan's nomadic warriors, the Kalmyks have seen much grief and oppression in their history.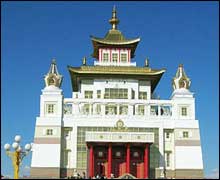 << Golden Temple, Elista
During World War II the Kalmyks faced mass deportation to Siberia on the orders of Stalin, who accused them of collaborating with the Nazis. They were allowed to return to their homeland only after Stalin's death.
The only region in Europe with a predominantly Buddhist population, Kalmykia lost its temples during the Soviet period, when they were destroyed by the authorities.
Now, many temples and also Christian churches have been rebuilt thanks to the republic's president, Kirsan Ilyumzhinov, who has paid for them out of his own pocket. The capital, Elista, now hosts Europe's biggest Buddhist temple, the Burkhan Bakshin Altan Sume.
Kalmykia is largely a poor agricultural land, though it has access to the Caspian Sea. Rich untapped reserves of oil and gas on its shelf may well be the key to future prosperity, but a great deal of investment in production and transportation is still needed before the region is able to reap the benefits of its natural resources.