Home Europe


Leading Buddhist brings prayers to New Milton
Daily Echo, March 7, 2009
London, UK -- THEY will be travelling from as far as Hawaii to New Milton to meet a Buddhist leader who was taught by that iconic spiritual figure the Dalai Lama.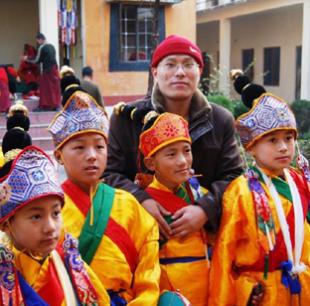 << Dorje Dhenpa Rinpoche
His Eminence Dorje Dhenpa Rinpoche, one of the leading Lamas in Tibetan Buddhism, is making his first visit to England from India to give a series of teachings and prayer offerings.
He is one of the leading Lamas in Tibetan Buddhism and he will be giving a special programme of Buddhist teachings in New Milton from Friday March 13 to Sunday March 15 in the Festival Room of the New Milton Memorial Centre in Whitfield Road.
Spokesman Rosie Nicholson says: "For the first time Rinpoche is visiting the west and sharing his inimitable warmth and wisdom with the Buddhist community here.
"People are expected to travel from far around New Milton just to receive these teachings – even from as far afield as Hawaii."
The programme in New Milton focuses on explaining the Buddhist principles of meditation for over- coming stress and negative emotions and awakening spiritual insight and calm.
Rinpoche and the accompanying monks have also been attending a series of major events in London to mark the 50 th anniversary of the Tibetan uprising when more than a million Tibetans were killed.
Details of the New Milton visit and tour can be found by e-mailing vajra.kmtour@yahoo.co.uk or log onto dzongpa.com/news.