Home Europe


World Linh Son Buddhist Congregation President passes away
The Buddhist Channel, Feb 18, 2005
Paris, France -- The Most Venerable, Dr. Thich Huyen Vi (Vietnamese secular name Le Van Huyen) passed away on Tuesday, February 15, 2005 in Paris, France. He was 79.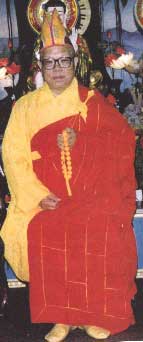 << The late Ven.Thich Huyen Vi (1934 - 2005)
Most Ven.Thich Huyen Vi was the president/spiritual leader of the World Linh Son Buddhist Congregation (WLSBC).
In addition to his leadership of the WLSBC, he also served as the Vice President for the World Buddhist Sangha Council (for France), the Vice President of the World Buddhist Supreme Tathagata Followers Abbot and Founder of Linh-Son Monastery.