Home Europe


Police horses blessed by Buddhist
BBC, Oct 4, 2009
Leeds, UK -- Two police horses from the West Yorkshire force have been blessed in a Buddhist ceremony in Leeds.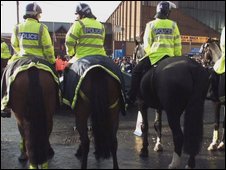 << Two of West Yorkshire Police's horses were blessed in the ceremony
The Venerable Mary Reavey blessed a number of pets and other animals as part of the Jamyang Buddist Centre's celebrations of World Animal Day.
The nun touched each animal gently with a holy object while walking around them with a stupa - an object which represents the Buddha's mind.
A number of animals working for Pets as Therapy were also blessed.
World Animal Day falls on the same day as the feast of St Francis of Assisi, the patron saint of animals.
Buddhists strongly identify with St Francis' compassion for animals and view all living beings as capable of achieving the highest state of enlightenment.