Home Europe


Tuva Buddhists hold prayers in memory of metro blast victims
ITAR-Tass, Mar 30, 2010
GORNO-ALTAISK, Russia -- Buddhists of Russia's Tuva will hold in capital Kyzyl on Tuesday prayer services in memory of those killed in suicide bomb attacks on two metro trains in Moscow on Monday.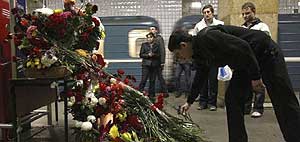 << The Russian subway blast has taken 39 lives
All parishioners who want to express condolences to the families of the people killed in the terrorist acts and pray for the dead are invited to prayer services that will begin at noon, local time. Buddhist priests will also pray for peace all over the world.
On Monday, the leader of Tuva's Buddhists, Gelong Tenzin Tseltim, expressed sincere and profound condolences on behalf of all Buddhists of the republic in connection with the death of innocent people in the terrorist acts.
"We, Buddhists, denounce any form of violence and sincerely empathize with you in connection with the tragedy," the Buddhist leader said. "Living thousands of kilometres away from Moscow, the residents of Tuva feel the pain," and feel compassion for the victims of the tragedy," he said.
The nationality or confession of the dead makes no difference for Buddhists, he stressed.