Home Europe


York Buddhists claim new holiday lodges will ruin quiet
BBC News, Apr 8, 2010
The Buddhist community settled in York 25 years ago
York, UK -- A Buddhist community in an East Yorkshire town has claimed its peace and quiet will be shattered if holiday lodges are built by a local golf club.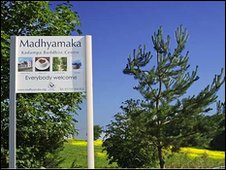 << Sign for Madhyamaka Centre

The Kilnwick Percy golf club has applied for permission to add 23 lodges to the 20 built two years ago.

The lodges would be 500 metres from the Madhyamaka Buddhist Centre.

Officials at the Buddhist centre said that their peace and tranquillity was already being disturbed and that the problem would get worse.

Kevin Thomson, of the Buddhist centre, said the golf club was a "noisy, busy, bustling tourist resort".

"We've been here for 25 years and we chose this place because of its outstanding peace and beauty.

Forty jobs

"Numbers for our courses have dropped since the first lodges were built. Our visitors have complained about noise and intoxicated visitors who visit our grounds from the club," he said.

Paul Hannon, spokesman for the Kilnwick Percy golf club, said the Buddhists had only complained once and that the club's commercial activities had created 40 jobs in the area.

Twenty-four people have written to East Riding of Yorkshire Council supporting the holiday lodge plans.