Home Europe


Prince visits Buddhist monument
BBC, April 5, 2005
Leeds, UK -- Prince Charles left behind preparations for his forthcoming marriage during a visit to a Buddhist monument in West Yorkshire on Tuesday.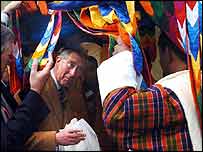 << Prince Charles with the Bhutanese monks at Harewood House
The prince saw the dedication of the monument at Harewood House, near Leeds, the home of the Earl of Harewood, the Queen's cousin.
Bhutanese monk Lama Baso Karpo invited the prince to view the so-called Stupa monument symbolising enlightenment.
The earl's eldest son David Lascelles is behind the project.
Flower petals
Prince Charles braved steady drizzle to joke with schoolchildren who threw petals in his path as he walked towards the 30ft-high stone pyramid over a bridge.
He was greeted by Viscount Lascelles and the Lama who presented him with a traditional white scarf.
Bride-to-be Camilla Parker-Bowles was not with the prince for the visit.
After meeting craftsmen who had built the monument Prince Charles watched the 30-minute long ceremony performed by monks who had flown from Bhutan for the event.
After chatting with members of the public, some of whom shouted "Good luck for Saturday", the prince left in a helicopter.