Home Europe


Buddhist monk preaches secret to happiness in Cheshire
By Ruth Morris, BBC Manchester, 11 March 2011
Manchester, UK -- Lama Abhay Rinpoche in Wilmslow High School Lama Abhay Rinpoche talks to pupils at Wilmslow High School.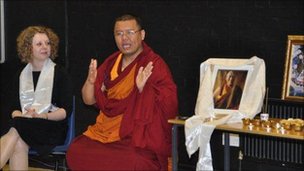 << Lama Geshe Abhay Rinpoche from Tibet has been a monk since the age of seven and is renowned for his views on love and compassion.

A leading Buddhist monk has told school pupils in an affluent part of Cheshire that the secret to happiness does not lie in material wealth.

On a visit to Wilmslow High School, he gave a talk to students studying religion and philosophy about Buddhist teachings.

His message was how to create peace, harmony and happiness, both for ourselves and others.

Abhay Rinpoche, 35, was recognised by His Holiness the Dalai Lama at the age of 12 as a reincarnation of the hermit Lama Lobsang Tenzin who lived in a cave and was famous for his supernatural powers.

During his visit to Wilmslow High, he gave the students guidance on how to achieve happiness without material wealth.

Jo Button, a practising Buddhist in Manchester and parent of pupils at the school, said: "His whole demeanour is warm, loving and inclusive."

Some of the Year 10 GCSE students and sixth formers are now planning to raise funds to support Lama Rinpoche's monastery in Eastern Tibet.

Abhay Rinpoche said he wished to return to the school on his next visit to the UK.