Home Asia Pacific South Asia Nepal


Buddhist conference to promote tourism in Lumbini
Phayul, November 22, 2004
Kathmandu, Nepal -- The second International Buddhist Conference, being organised in Lumbini from November 30 to December 2, will help in promoting religious tourism, various speakers said while speaking at a programme organised by Nepal Chamber of Commerce here today said.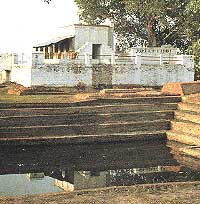 Deep Kumar Upadhaya, minister for culture, tourism and civil aviation said that there is a need for coordination among civil society, private sectors and the government for sustainable development of Lumbini. Almost all works have been completed for the successful organisation of the seminar, Upadhaya said.
Observing the potential of religious tourism, government is in the process of introducing religious tourism packages, he added. Rajesh Kaji Shrestha, president of NCC said that Nepal can see a broader prospect in attracting tourists if the meet could also be used for promoting tourism. The government should introduce religious packages to attract Buddhists to the holy place of Lumbini.