Home Asia Pacific South Asia Nepal


Buddhists pray for peace in Nepal
Daily Times (Pakistan), (AFP), Dec 1, 2004
KATHMANDU, Nepal -- Buddhist monks prayed for world peace Tuesday at the start of a conference in the Nepal village of Lumbini - revered as Buddha?s birthplace - that is aimed at promoting the site as a ?city of world peace.?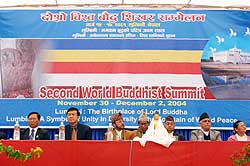 Soon after the World Buddhist Conference opened, Maoist rebels called off a 48-hour general strike in the area they had planned as part of an armed campign to overthrow the monarchy and install a communist republic.
The Maoists said in a statement issued to local media they were abandoning the strike that began at dawn Tuesday ?after appeals by religious people coming to Lumbini and human rights groups.?
As part of the strike, the rebels had felled trees to block roads leading to Lumbini and stop delegates attending the conference, which is also aimed at promoting the village as a Buddhist study centre.
Last week, the government declared a unilateral ceasefire against the rebels in the southwestern region, 390 kilometers (240 miles) southwest of Nepal?s capital Kathmandu.
Organisers said the Maoist strike hindered the ability of some delegates to attend the conference in Lumbini which is on UNESCO?s list of World Heritage sites and boasts a number of monasteries and shrines.
?Still, over hundred foreign guests arrived in Lumbini on the eve of the opening of the celebrations and many others are expected,? said the vice-president of the organizing committee, Omkar Prasad Gauchan.