Home Asia Pacific South Asia Nepal


UN Secretary General greets World Buddhist Summit
Nepalnews.com, December 02, 2004
Kathmandu, Nepal -- UN Secretary General Kofi Annan in a statement on Wednesday has sent his greetings to the ongoing 2nd World Buddhist Summit in Lumbini, the birthplace of Lord Gautam Buddha.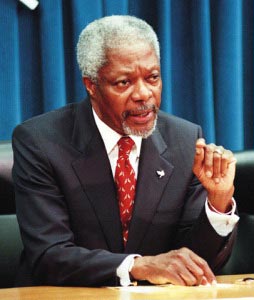 The Buddha?s message was one of peace and compassion, but also one of mindfulness-of being fully aware of oneself, one?s actions and the world in which one lives, the statement issued by the United Nations Information Center in Kathmandu quoted the Secretary General as saying.
The Secretary General said Buddha?s message was one that should be taken seriously by all who care about the direction and fate of humankind. He further said, if we fail to understand that our choices have implications far beyond our immediate communities, our global village will remain a more dangerous place than it need be.
Expressing wishes for a successful summit, Annan said, ?I hope everyone attending the Buddhist summit will pledge to do his or her part in what must be a sustained campaign to rebuild trust and confidence between people of different faiths and cultures.?
?Let us recognize, as Buddhism does, our essential interdependence and let us follow this path as partners,? the Secretary General added.
The 2nd World Buddhist Summit kicked off in Lumbini, the birthplace of Buddha, on Tuesday.
Over 120 delegates of 28 countries including VVIPs from eight countries including India, China, Bhutan, Myanmar, Cambodia and Egypt are participating the summit.