Home Asia Pacific South Asia Nepal


Buddhist summit proposes Lumbini AS World Peace city
UNI, Dec 2, 2004
Kathmandu, Nepal -- The 2nd World Buddhist Summit held in Lumbini has proposed to declare Lumbini the world peace city. In a 10 point declaration passed at the end of the summit today, it called on the government to declare Lumbini, the birthplace of Lord Buddha, as the World Peace City.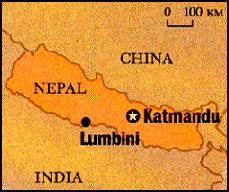 The declaration has also requested the government to take initiatives for the development of other religious sites in Lumbini including Kapilvastu, Devdaha and Ramgram to attract national and international visitors.
It has stressed on the construction of Gautam Buddha International Airport in Lumbini at the earliest.
The summit has called upon both the warring sides, the government and the Maoists, to follow the teachings of Lord Buddha and end the ongoing conflict in the country.
The three-day summit was inaugurated by King Gyanendra on the second day amid a gathering of hundreds of Nepalese and foreign dignitaries.
Participants from 26 countries including India, China, Thailand including govt ministers, Buddhist monks another spiritual leaders had participated in the summit.
The summit has also decided to hold the summit every four years.
The first summit was held in Lumbini in 1998.